As mentioned in the previous post, I haven't blogged in ages for so many reasons. Now I hope to change that. Sitting on the train this morning mulling over and writing about what I had done in Japan so far was actually quite fun. So I hope I can keep it up this time!
I set aside two weeks at the end of June/ beginning of July for vacation this year. This was a time when I had no weddings or teacher trainings planned, and when tutoring would slow down. I had time to think about where to go, and was really stumped. Cambodia or Vietnam again? The U.S. again? Australia? Nowhere really nagged at me.
I thought about Japan because I have a colleague and some students there. I've been teaching my colleague Joe's son English for almost two years via Skype; I also help him with other tasks with his Japanese English college students. Japan had never really been on my bucket list, but the more I thought about it, the more interesting it sounded to me.
I asked Joe if he and his students would be around then – there was no point just going to Japan on my own to travel. He said that they would be around and actually would be happy for a visit. I found a great deal on Malaysia Air (you know, the one that had one plane disappear and another shot down over Russia last year)? I didn't do a whole lot of research – just let Joe know when I'd be there. He graciously has opened his home to me for as long as I will be here.
The flight to Tokyo was a red-eye through Kuala Lumpur. I had no idea how tired I was from preparing for this trip until I got on the first plane and slept through dinner service! I have never done that before, as I don't normally sleep well on planes at all – much less by accident!
I arrived in Tokyo at 7:40 a.m. the next morning, completely disoriented, exhausted, and knowing little other than I was to go to Shinjuku to wait for Joe to finish work. I got some yen out of an ATM and found my way to Shinjuku via train. I honestly had no idea what Shinjuku was or what I would do there all day. Unlike previous trips, I "winged" my arrival. Not such a great idea, but thanks to Joe and his family's hospitality, it's all working out.
Shinjuku is a HUGE busy train station in the midst of a very large busy shopping area. I got out of the station and saw a McDonald's – FREE WIFI!!! This was an exciting development for me. I had a meal and settled in to let Joe know I was there and figure out how to spend the day waiting for him. Unfortunately a completely crazy woman sat down next to me and proceeded to have an argument with herself about something quite serious. That just made the day more interesting, really!
The first thing I noticed about Tokyo was the crowd. I had arrived during rush hour so getting around with my wheelie bag was a bit cumbersome. I needed to ditch the bag and change into some cooler clothes (I was drenched from hauling that bag around). Meanwhile I found the Japanese Old Navy – Uniqlo – and did a little shopping. Scored some cooler clothes I'll also wear in Bali. I went into a bathroom in the train station and changed clothes, found a locker, and locked up what I didn't need for the day. The station was so big that I took a photo of where the locker was so I could remember. Technology is GREAT!
Besides the crowd, the second thing I noticed was how QUIET and orderly people are. They are polite and keep their voices down in public places. Also, the streets are immaculately clean; cars stop for pedestrians, and people ride their bikes on the sidewalk in special bike lanes. Pretty cool.
I hung out, shopped, ate and had a couple of beers waiting for Joe. I met him at a famous bar in Shinjuku called "The Dubliner" and we enjoyed a couple of pints, and then IT WAS ON! Joe picked up our pace and we were hot on the trail for food for his family's dinner and the commute home. The supermarket was overwhelming, but I didn't have more than a very few minutes to check it out.
The next 24 hours are a bit of a blur, as I was completely exhausted and drank a little too much wine with Joe at dinner 😉 But I was so happy to meet my student, his mother, and his little brother. This is the sign they have on their wall: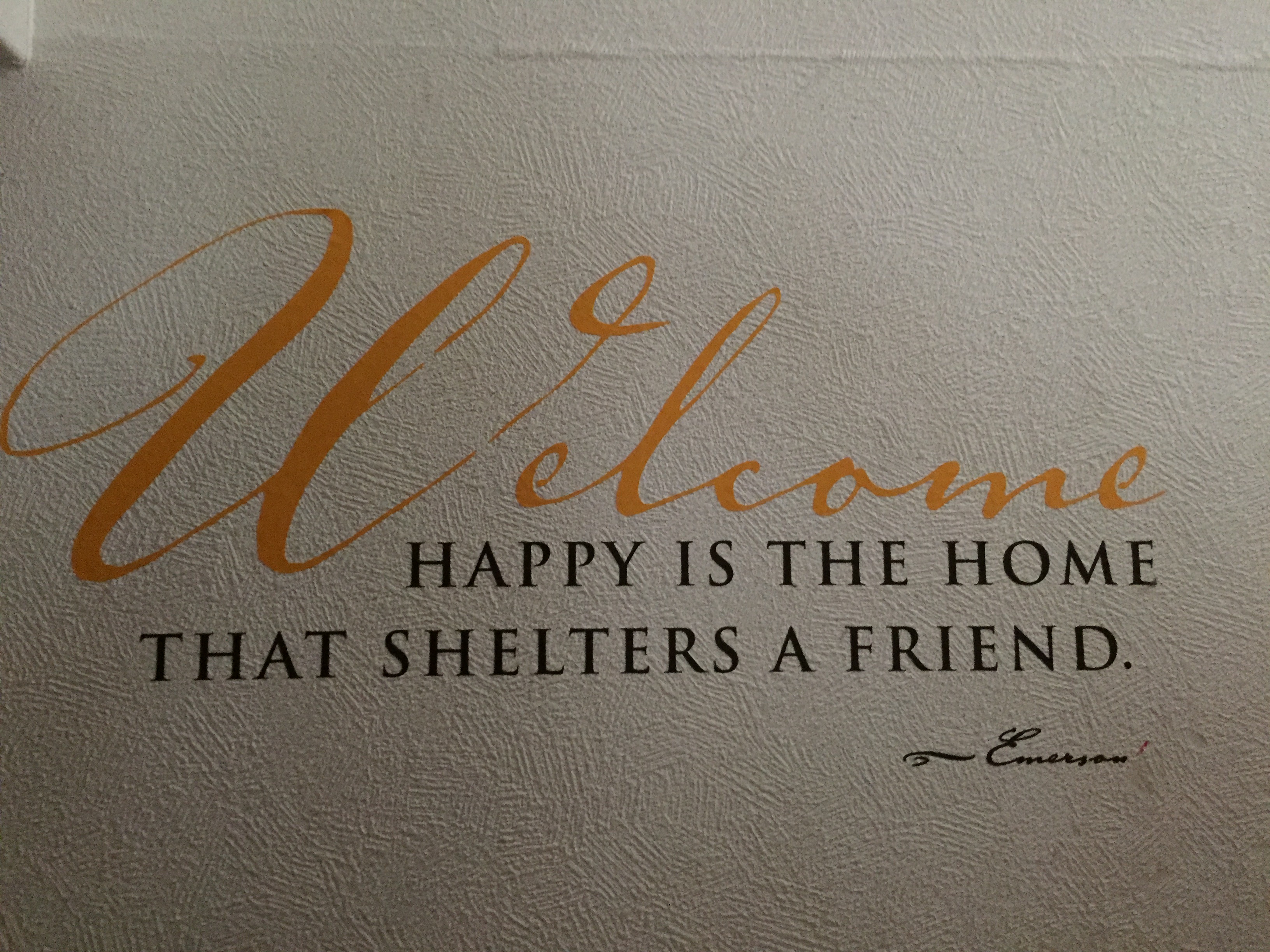 I couldn't have found a better family to host me 🙂
The next morning was an early one, as Joe has his big day at one of the universities where he works. I was in survival mode. The commute was a crowded rush of trains and I had to run to keep up with him at times. In his first class I met some students preparing for the TOEIC test (an English fluency exam that measures some rather odd skills and is used for job placement/ salary advancement). They were EXTREMELY shy to talk to me, but also seemed interested to meet me – maybe horrified?!? I don't know. But it was fun sitting in on Joe's class and seeing what he does here in Japan as an English teacher. (He's a fabulous teacher BTW!)
Then it was off for the fastest lunch ever. I was almost in tears at lunch (don't tell Joe) suffering from serious culture shock, exhaustion, a tiny bit of hangover (oops!) But I stuck in there through his afternoon writing class which only has two young men in it. I have been emailing these students (and the students in two other classes) as a "pen-pal" to help them with their written English, so it was great to put faces to their names. We talked pretty much the whole class about everything you can think of, and had a lot of laughs.
Joe mentioned that if I wanted to hang with him for the rest of the day, it meant that I would have to stay on campus until 6:30 and then go to a "drinking party" at his other university. I told him there was no way I would make it that long – I needed to go back to his house and basically pass out (I think he thought I would go do touristy things but that was clearly not going to happen). I was SOOOOOOOO tired. He gave me excellent directions back to his house via train (the trains here are awesome) and the combination to his house lock – minus the numbers, just the keyboard pattern.
I got to the first subway station with no problem, then couldn't find ANY maps with English names of stations on them. Doh! Seriously walked around scratching my head for about an hour. Then I just guessed how much the fare would be and used Joe's written directions to get on the next train. I must have paid the right amount (or over-paid) because I made it to the station! Took at taxi to his house, then roused the whole neighborhood by setting off his house alarm ☹ I was so embarrassed. Thankfully a neighbor called Joe's wife who explained (very differently than Joe's directions) how to do the combination. She is a gem – not just for that!
Joe's younger son who I don't work with yet came home from school around 6:15 (late for a little guy, right?). I'd had a shower and a nap and was feeling good. I kind of thought he would think it was weird that I was the only one home, but this little friend is about as outgoing as you can imagine a kid to be. He proceeded to come into my room and show me his card collection, write on a white board in English (at 7 he's just learning how to write but can read Japanese like a champ!) We had a nice time getting to know each other. He's super-cute and fun.
Yoshiko got home and made an incredible home-cooked Japanese-style meal. She and Joe cook almost every night, and they are pros. Besides not eating anything here yet that I didn't like in general, these two have served me some of the best meals I've had.
Wow this is so much more like a diary than a fun blog post…
Anyways, Saturday was a day to rest and relax for everyone. I actually did venture out a bit and collected my Japan Rail (JR) ticket for my trip to Kyoto. This involved my second solo trip on the trains and went without a hitch (no pun intended). Sunday we attended his elder son's basketball game. Students here are VERY involved in their clubs (sports, music, etc.) in their teens and even into their college years. He has chosen basketball. They practice EVERY DAY for hours and hours. The game was interesting for so many reasons. First, I got to see him play, which was the most important part (we talk about basketball a lot during our lessons). But it also gave me a chance to sit, observe, and think about some of the differences I was learning between the American and Japanese (and Indonesian! and Balinese!) cultures. I feel like I could write a book about that already….
We rode bikes to the game – so fun but I haven't been on a push bike in ages. Thankfully Joe's elder son has pretty much permanently lent me his bike to get to the subway stations nearby while I'm here. The bike has been a God-send, but my arse is killing me! So then we rode bikes to a ramen place and ate lunch – yummy. Then back to the house where I mapped out my plan to go to Harajuku for the rest of the afternoon.
Here are some photos: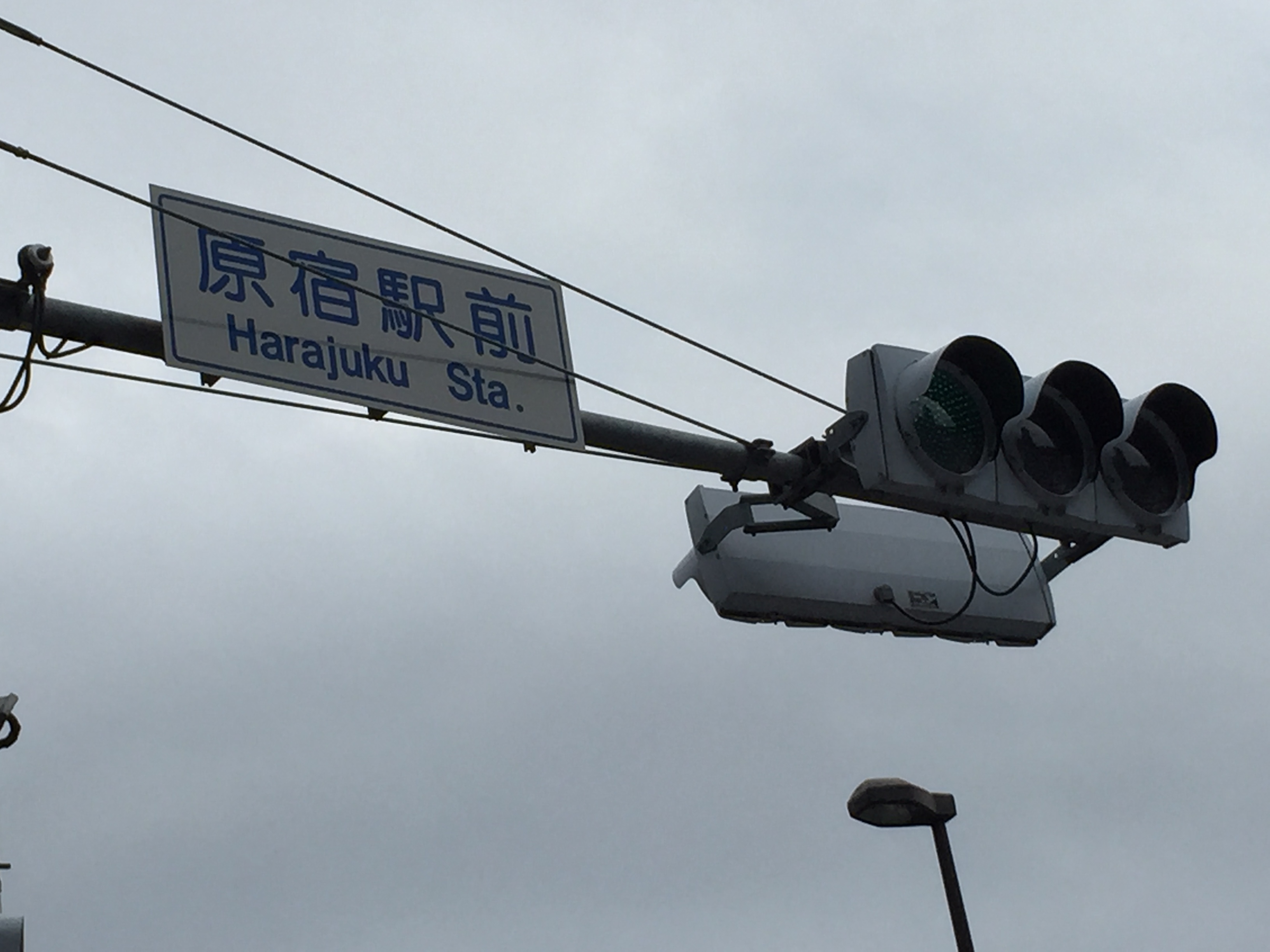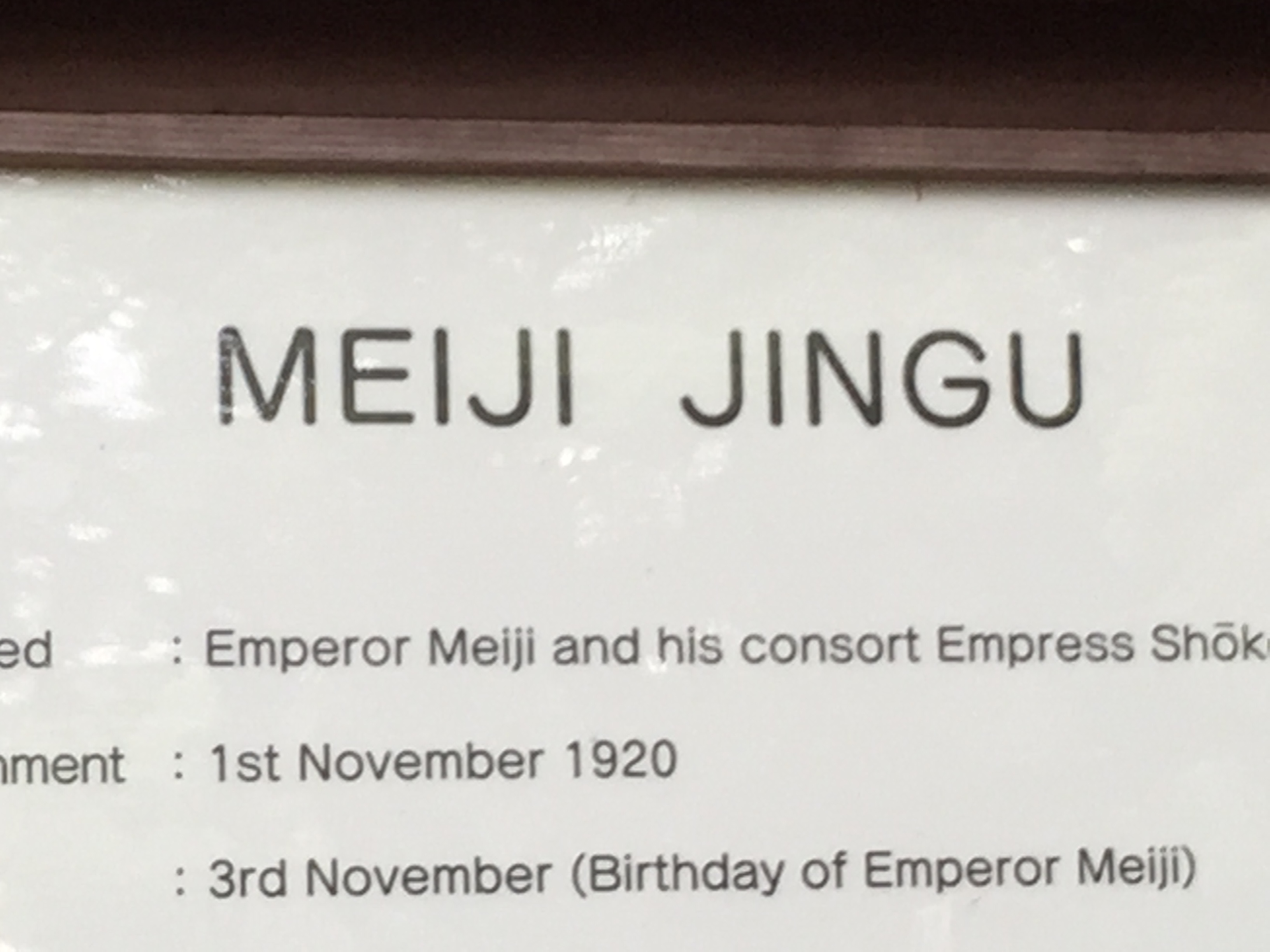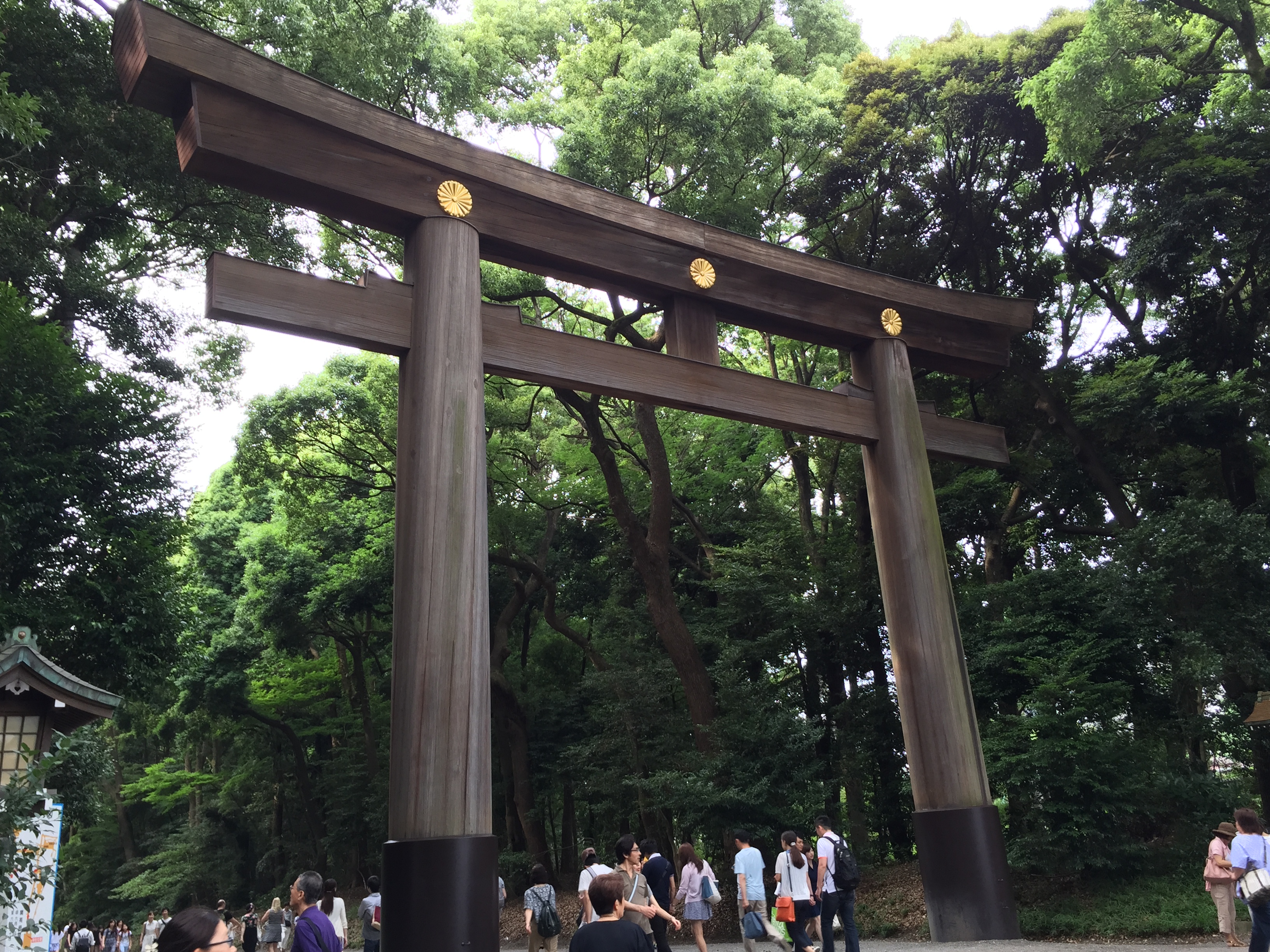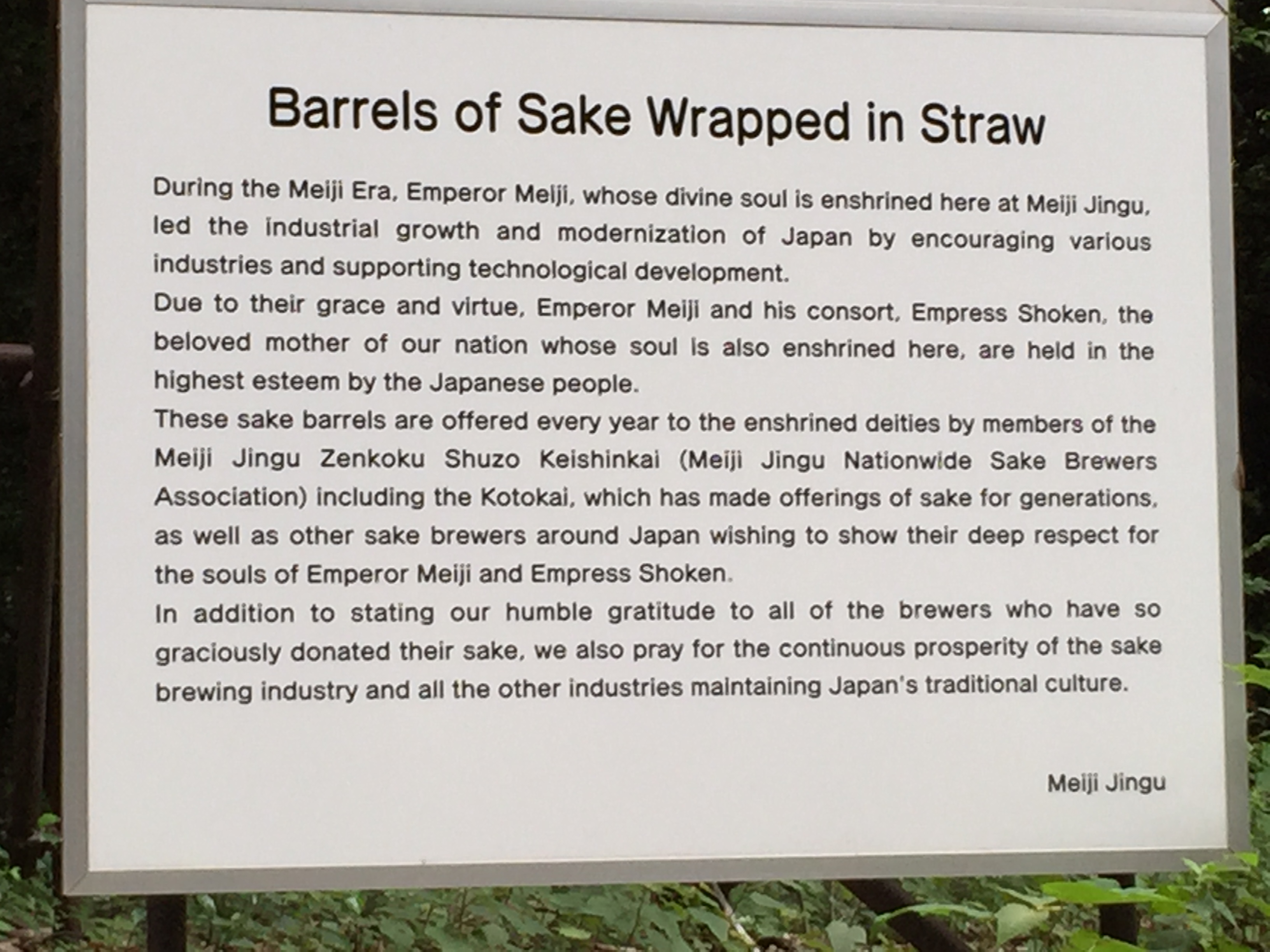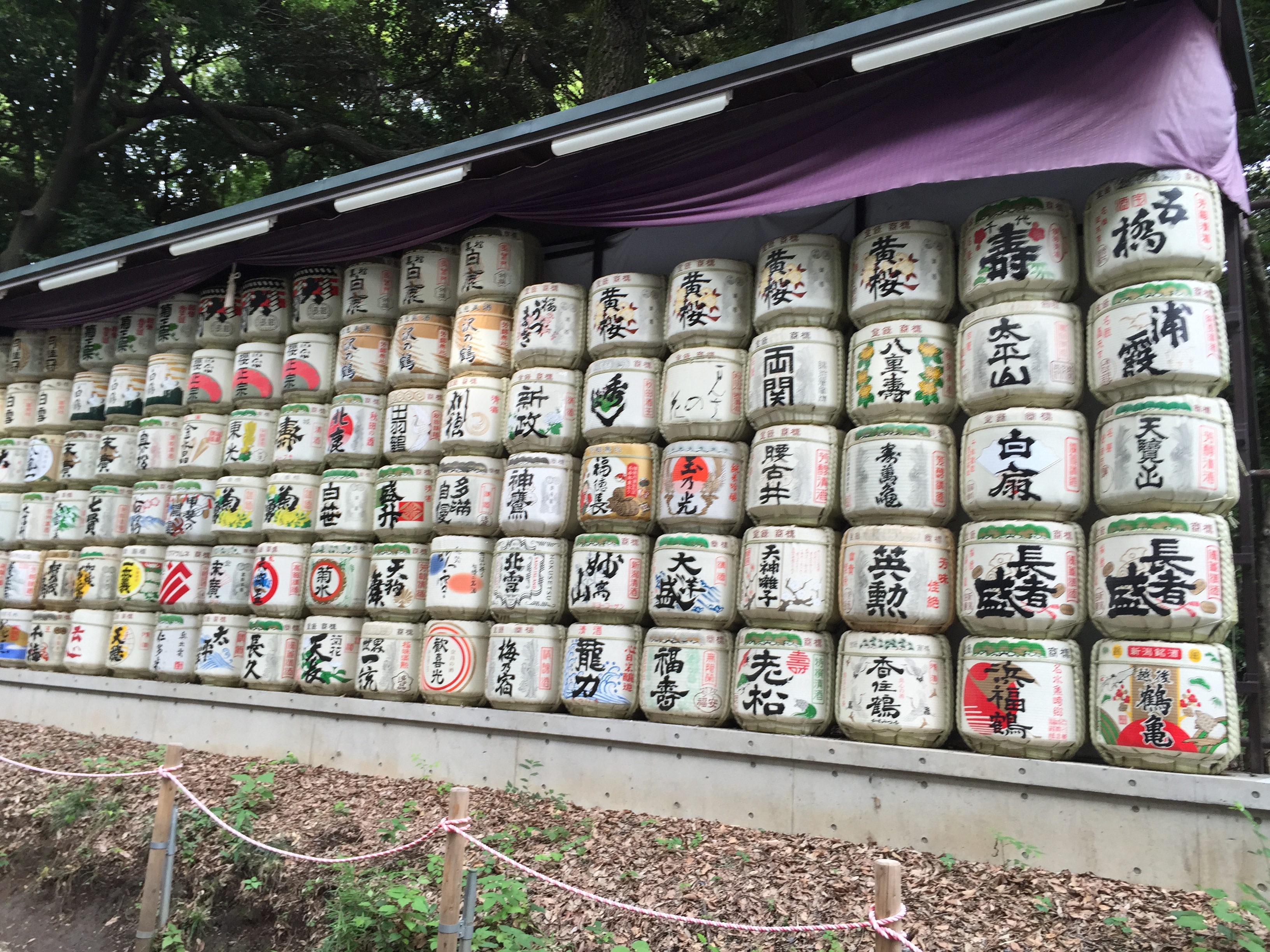 I didn't know about the Meiji shrine being in Harajuku, so that was a pleasant surprise and really beautiful – lush and green. Then, after several "drive-bys" I forced my crowd-phobic self into the main shopping street for a look.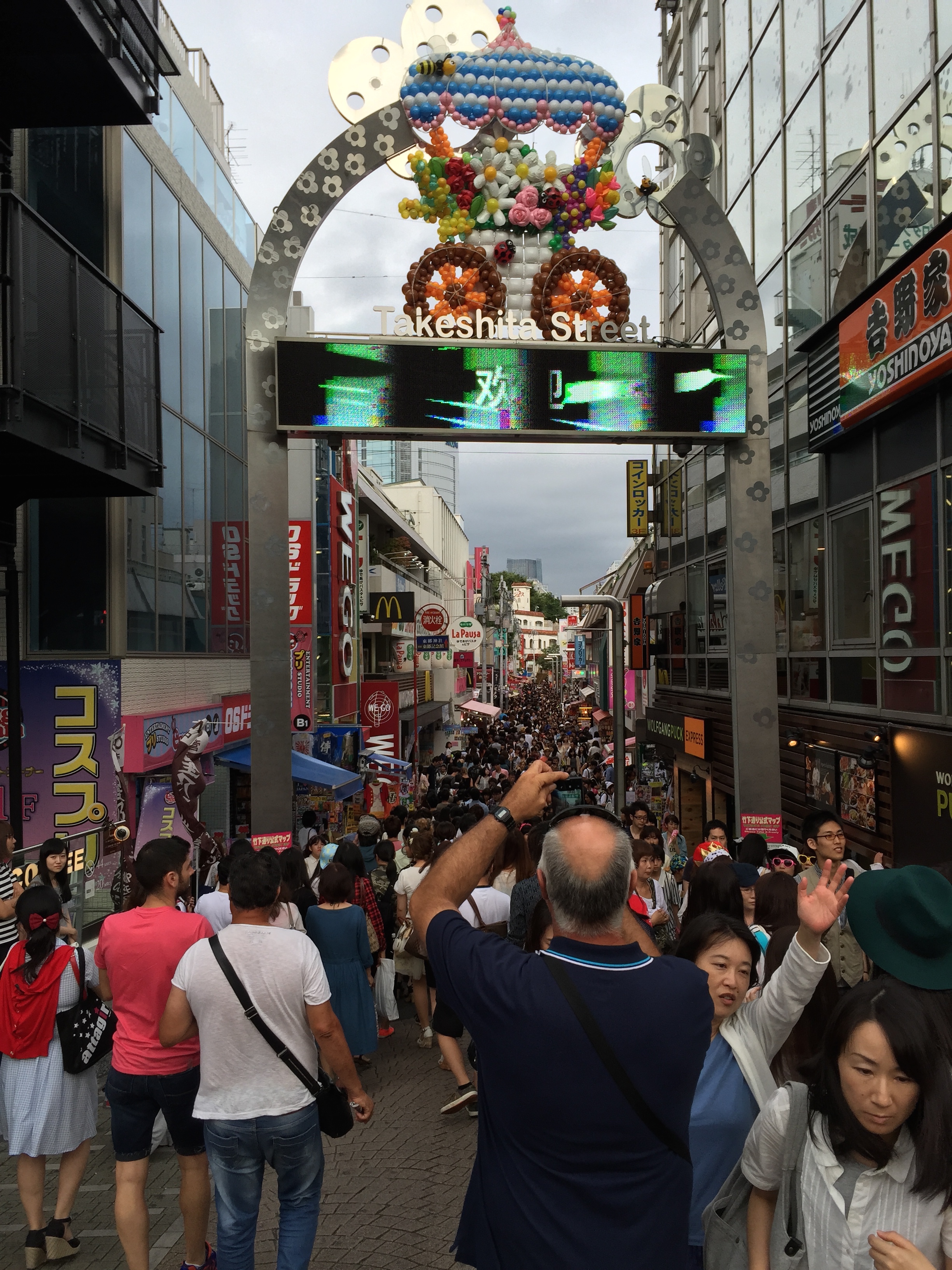 Harajuku in general seems to be the epicenter of "cute."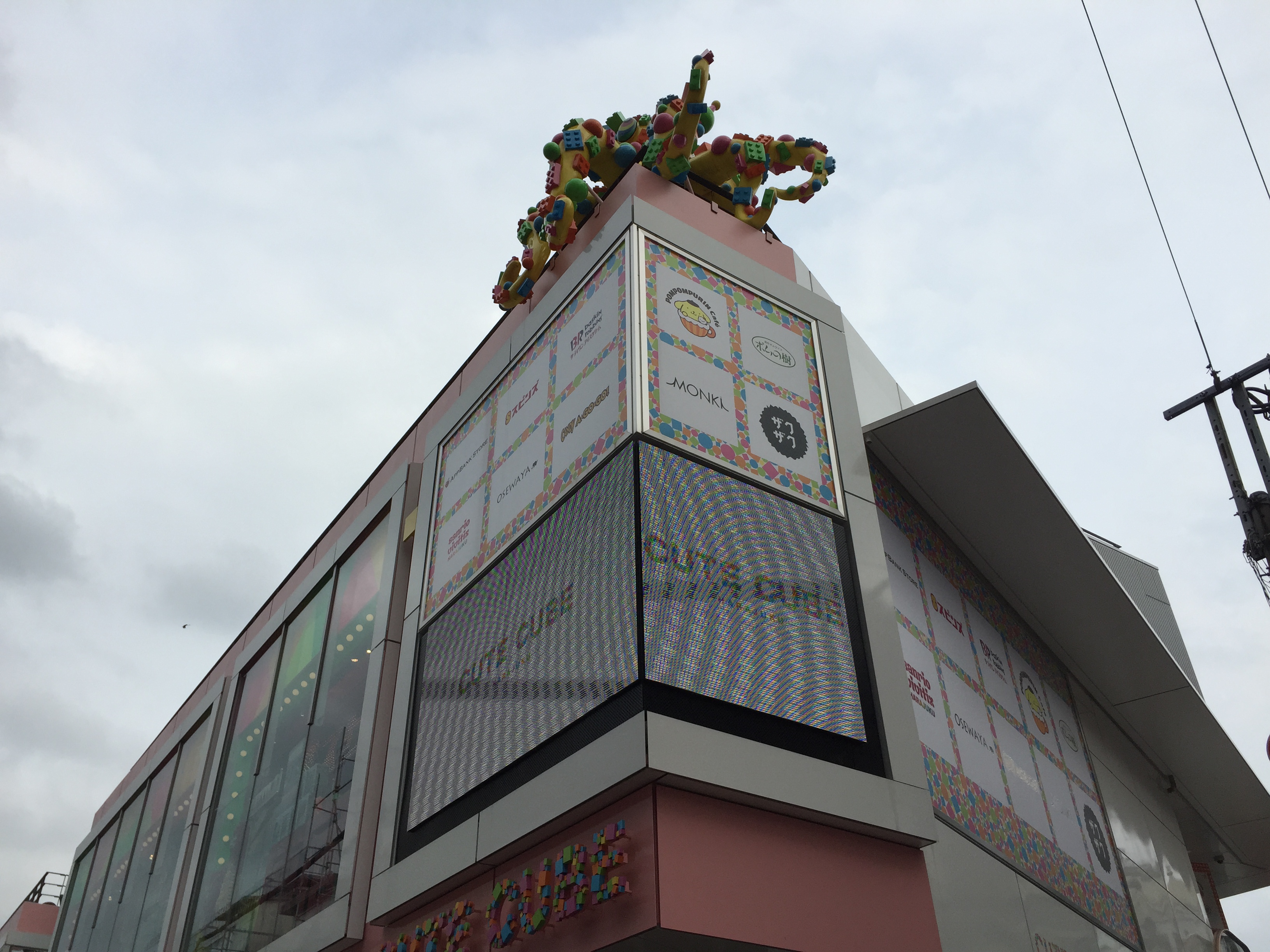 There are lots of girls dressed up like dolls, goths, and any other type of person (and tourist) you can imagine there. I didn't go into any of the shops because I sniffed out an H&M right outside this shopping street and had my sights set on that. Disappointment ☹ Then I stopped in a pub to have a beer and headed back to Joe's. I think he was surprised that I had negotiated that trip without even asking him how to get there (I have a couple of great apps on my phone now that are making things a lot easier).
Monday was GAME ON again – we had to get up very early for Joe's commute to his other job at the beautiful Soka University. This commute involved a 20 minute bike ride, a very crowded train, and a taxi (could have been a bus but we were running a little late).
Soka University has a lot of money because – and I could be telling this all wrong – its affiliation with a religion like the Mormonism of Japan(?!?). I need to ask Joe more about this. The campus was lush and huge with amazing facilities. Students were motivated and again, fun to meet and talk to. The ones I had emailed with were especially talkative. I thoroughly enjoyed them. Two young men took me down to the vending machine to purchase some tea. They told me the tea I wanted was "afternoon tea" but that "it was okay to drink in the morning" – PHEW! Japanese people are really gracious like that, and I always think it's cute. Lots of cuteness here….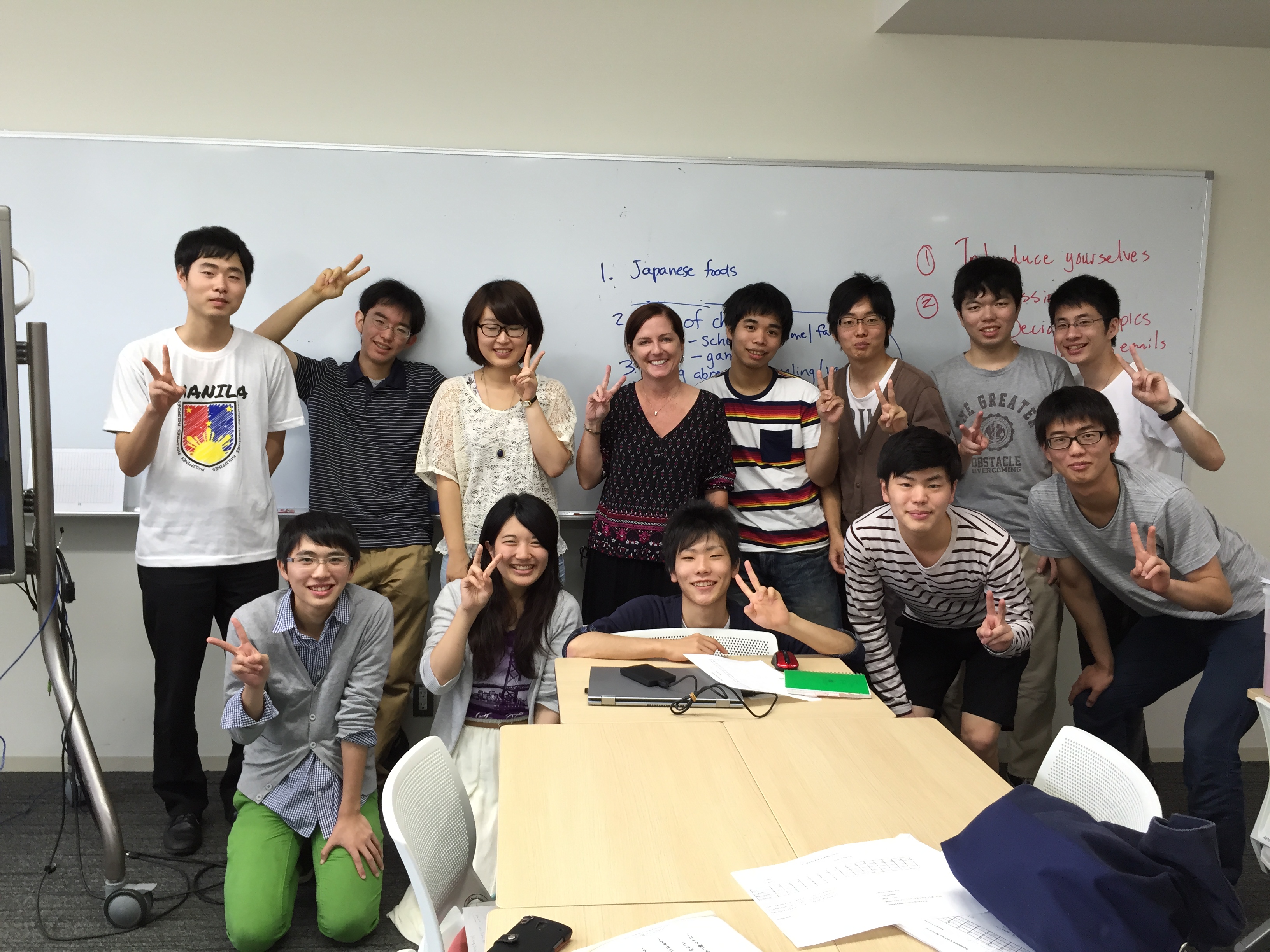 With more help from Joe I found my way back to his house, changed clothes, and headed out on the bike for a little while, kind of just exploring his neighborhood. Came home to another beautiful home-cooked meal, helped his young son with his Japanese writing homework (does that one look like that one? Giggle giggle.) And crashed hard.
Tuesday I met Joe at the first university to interact with more students with whom I've been emailing. They were lovely and very talkative once they got over their initial shyness. Topics were/ are all over the place, including "what do you want to be re-born as?) Clever, bright students!
I ventured down to Asakusa after the uni just to look around. Saw a temple.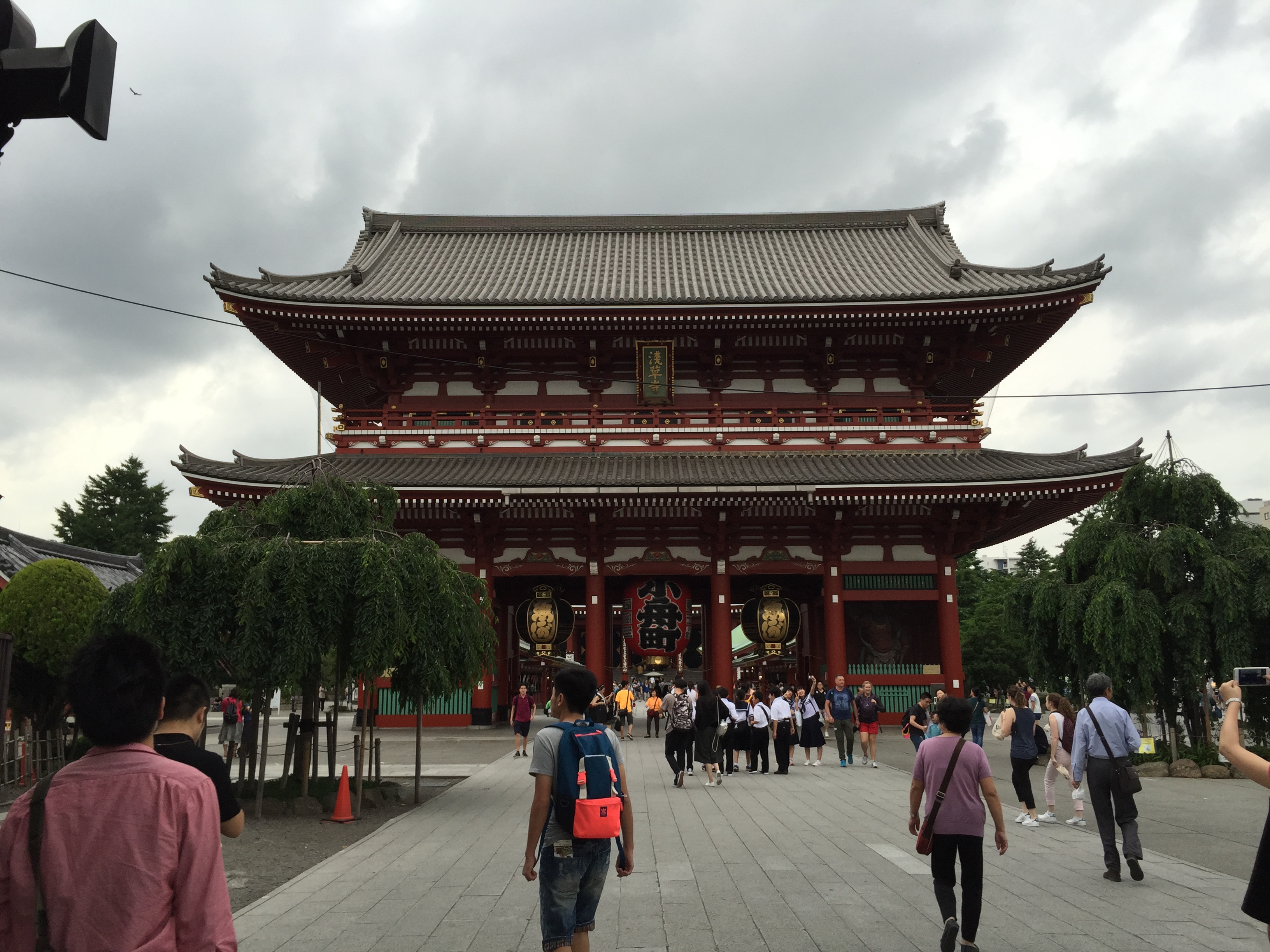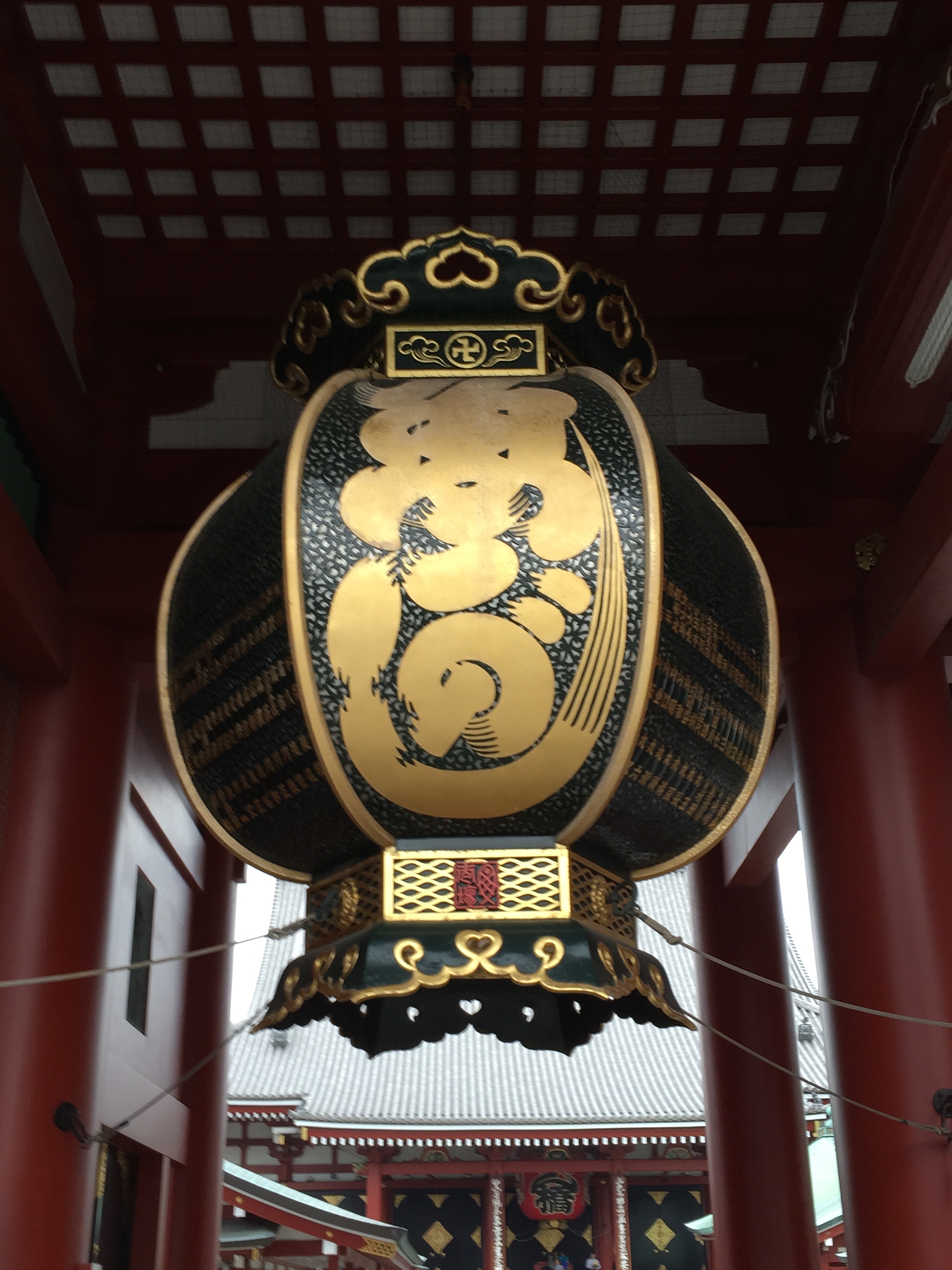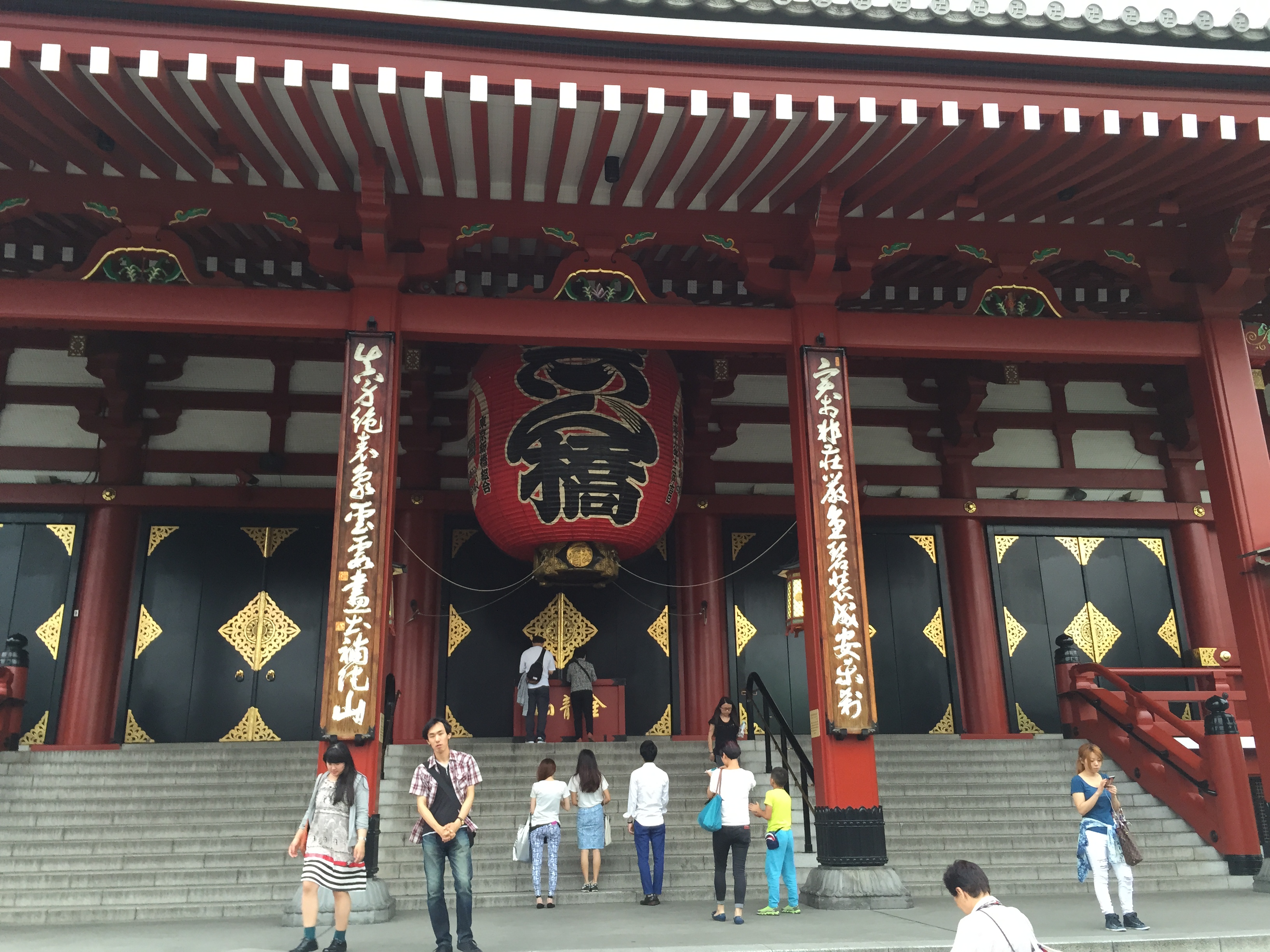 This is a really big tourist area, but it was almost empty when I was there. It's rainy season right now and so the weather is unseasonably cool and perfect for sightseeing. I looked at all the trinket shops to see what I might buy for friends but didn't buy anything yet. Had an excellent meal and a couple of beers (I'm on vacation!) then headed home.
Today I'm headed to Kyoto – a recommendation of Joe's students. Another friend recommended the bullet train, from which I am writing this right now. It's raining quite a bit and I'm a bit concerned that it will be raining the whole time I'm there, but honestly I don't care. The cooler weather has been an amazing break from the heat of Bali. And the bullet train is so cool! My friend Rika, who I hope to see when I get back from Kyoto, made sure I bought my bento box (lunch) and a can of beer for the train so I could do like all the Japanese do: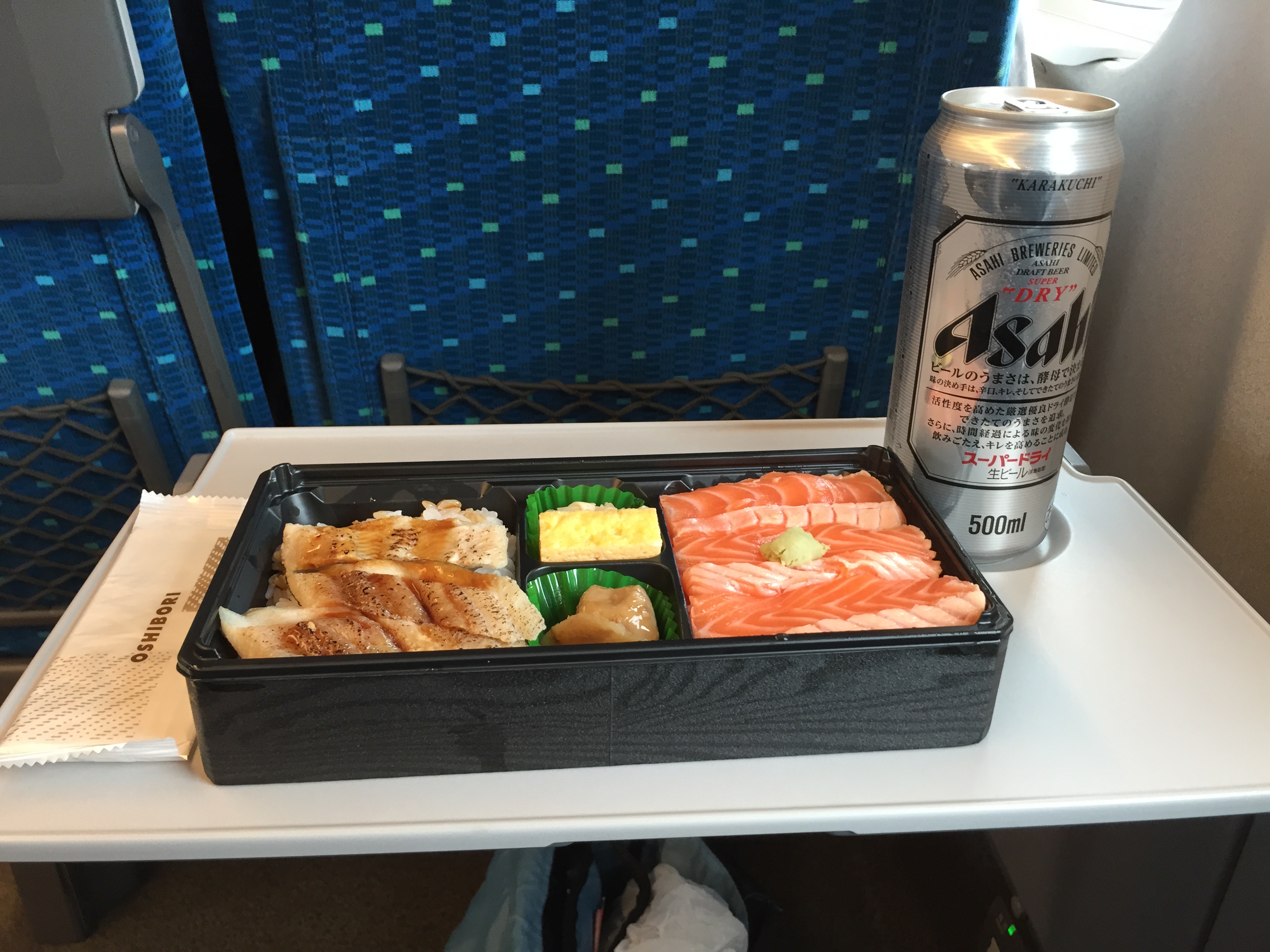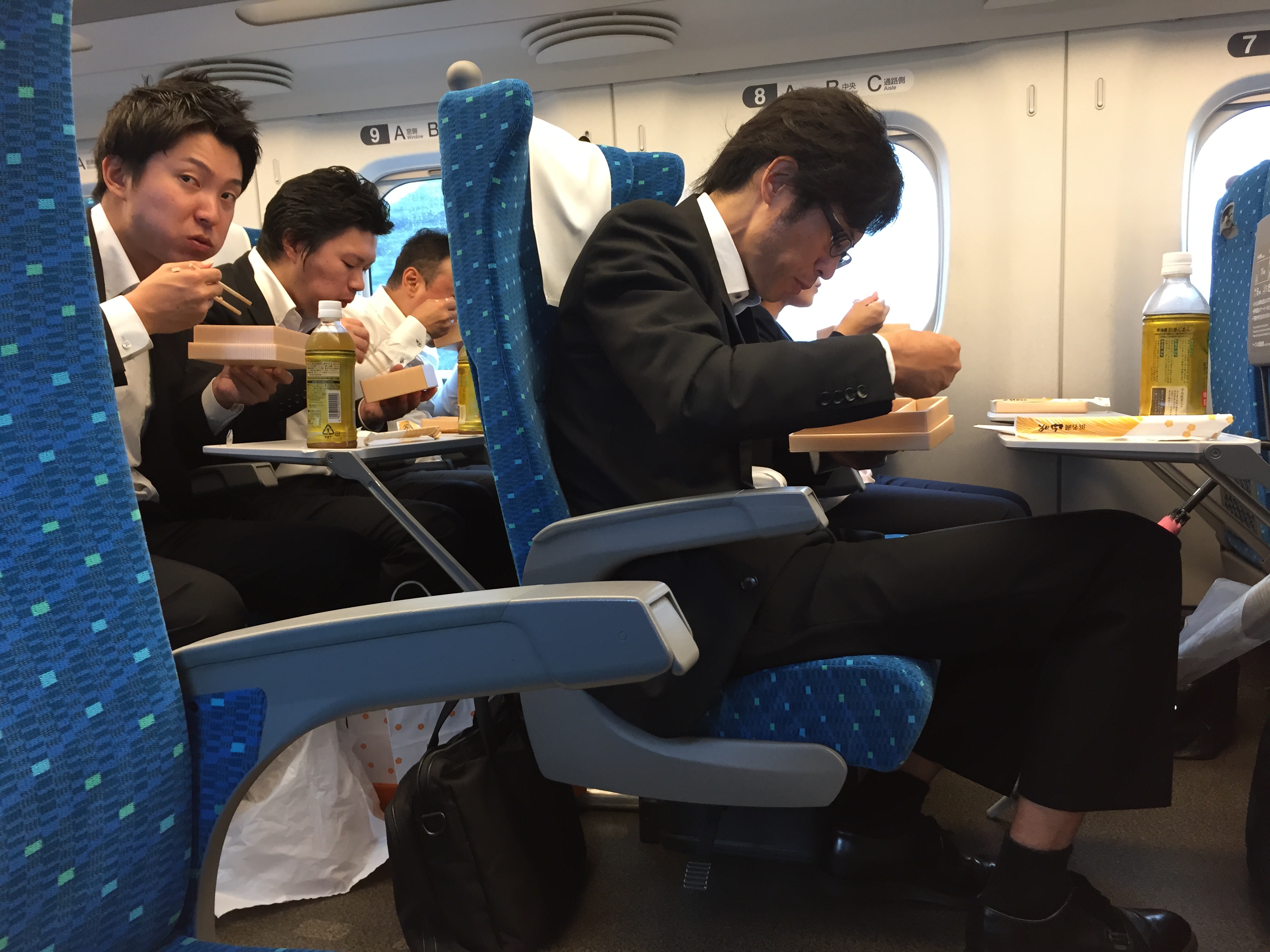 She was right! Great call!!!
In all, when I first got to Japan I was crazy worried that it would be as difficult for me to navigate/ negotiate as China. But it has been the exact opposite. Joe's and his family's hospitality has MADE this trip. I'm slowly learning to ask people for help (and they are ALWAYS helpful) and finding my way.
Kyoto is the next adventure. I hope it won't be too long before I have time to blog again. Thanks for reading!